Webmaster's note 1/16/2016: This is an old review from the previous version of the site, which we're bringing in as a post so that it'll be searchable in the reviews categories with newer content.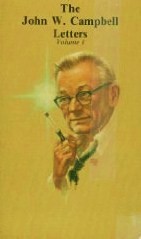 The John W. Campbell Letters
edited by Perry Chapdelaine Sr., Tony Chapdelaine and George Hay
Paperback, ISBN 0931150167
reviewed by Sylvia Wendell
RiverCon XXIII got hold of a big stack of books, copies of The John W. Campbell Letters, and handed them out as freebies to anyone who wanted them last year (1998). I hope you got one. It documents the ideas and wit of a remarkable man. Sorry – make that an "Astounding" man.
John Campbell was for many years the editor of "Astounding Science Fiction" (he later renamed it "Analog"), and he corresponded with every science fiction writer in the country, starting in the 1930's and continuing until his death in 1971. Also every would-be writer, reader who wrote a letter of comment, scientists from whom he wanted an article for his magazine, scientists and friends and total strangers whom he wanted to consider seriously his latest outrageous theory …. As much time as he spent writing long, enthusiastic screeds, he somehow found time to put together every month the most popular sf magazine in the world, and the one that set the standard of quality.
Campbell was famous for suggesting story ideas to writers that ended up as classics in the field – Asimov's Three Laws of Robotics being perhaps the best known. And there are a lot of his ideas in this volume. Best of all though, for me, was the simple pleasure of meeting again, through Campbell's letters, all my favorite authors. Over and over, I felt a shock of delights at reading Campbell's comments on some favorite novel or story or character. Dune. Slow Glass. Telzey Amberdon. Everything is in here. A whole era came to life again for me.
Campbell loved a good, stimulating difference of opinion, and he loved to shake up people's assumptions, make 'em think. A lot of his letters had two paragraphs of business, followed by several pages of witty, logical, forcefully argued lectures on almost any subject. Campbell's discussions in the hard sciences were very knowledgeable, and often very technical. His excursions in the soft sciences, though, were sometimes spectacularly off-base, since he (and the sociologists and psychologists) knew less about the push and pull of human behavior. He was enthusiastic about Dianetics for years. (And Campbell says in one letter that it was he who suggested to Ron Hubbard that Dianetics "should be dropped as a psychotherapy, and reconstituted as a religion.")
But in every letter, it's evident that he wanted to understand everything under the sun. He eagerly challenged all his correspondents to either agree with him or persuade him he was wrong. His letters will alternately delight you and outrage you, but they will always stretch your mind. Reading his letters, collected in this volume, you can't possibly go wrong.